llizacosmeticsline
Regular price
$0.00
Sale price
$20.99
Unit price
per
Sale
Sold out
Tea tree yoni wash is a cleansing product specifically designed for maintaining the health and freshness of the yoni area. It contains tea tree oil, known for its antibacterial properties, to help prevent irritation and maintain a balanced pH. 😊🌿
Directions
Squeeze Sweet Kitty onto clean hands. Wash thoroughly. Wash on and around the clitoris, vulva and vagina.
Ingredients
 Water (Aqua), Decyl Glucoside, Cocamidopropyl Betaine, Prunus Amygdalus Dulcis (Sweet Almond) Oil, Caprylic/Capric Triglyceride, Vitis Vinifera (Grape) Seed Oil, Phenoxyethanol, Hydrolyzed Wheat Protein, Panthenol, Melaleuca Alternifolia (Tea Tree) Leaf Oil, Xanthan Gum, Tetrasodium Glutamate Diacetate.
Questions
What is tea tree yoni wash? Tea tree yoni wash is a specially formulated cleanser designed for intimate feminine hygiene. It contains tea tree oil, known for its natural antibacterial and antifungal properties.
What are the benefits of using tea tree yoni wash? Tea tree yoni wash offers several benefits. It can help maintain a balanced pH, prevent odor-causing bacteria, reduce itching and irritation, and promote overall vaginal health and freshness.
How do I use tea tree yoni wash? Using tea tree yoni wash is similar to using regular body wash. Simply apply a small amount of the wash to your hand or washcloth, lather it up, and gently cleanse your external genital area. Rinse thoroughly with water.
Is tea tree yoni wash safe to use? Tea tree yoni wash is generally safe for most individuals when used as directed. However, it's always a good idea to read the product label and do a patch test on a small area of skin before using it more widely. If any discomfort or irritation occurs, discontinue use and consult a healthcare professional.
Can tea tree yoni wash be used during menstruation? Yes, tea tree yoni wash can be used during menstruation. It can help maintain cleanliness and freshness during this time, but it's important to avoid getting the wash inside the vaginal canal.
Can tea tree yoni wash be used by pregnant individuals? It's best to consult with your healthcare provider before using any new product, including tea tree yoni wash, during pregnancy. They can provide personalized advice based on your specific needs.
How often should I use tea tree yoni wash? Tea tree yoni wash can be used daily as part of your regular feminine hygiene routine. However, it's important not to over-cleanse the area, as this can disrupt the natural balance of the vagina. Listen to your body and adjust the usage based on your individual needs.
Share
View full details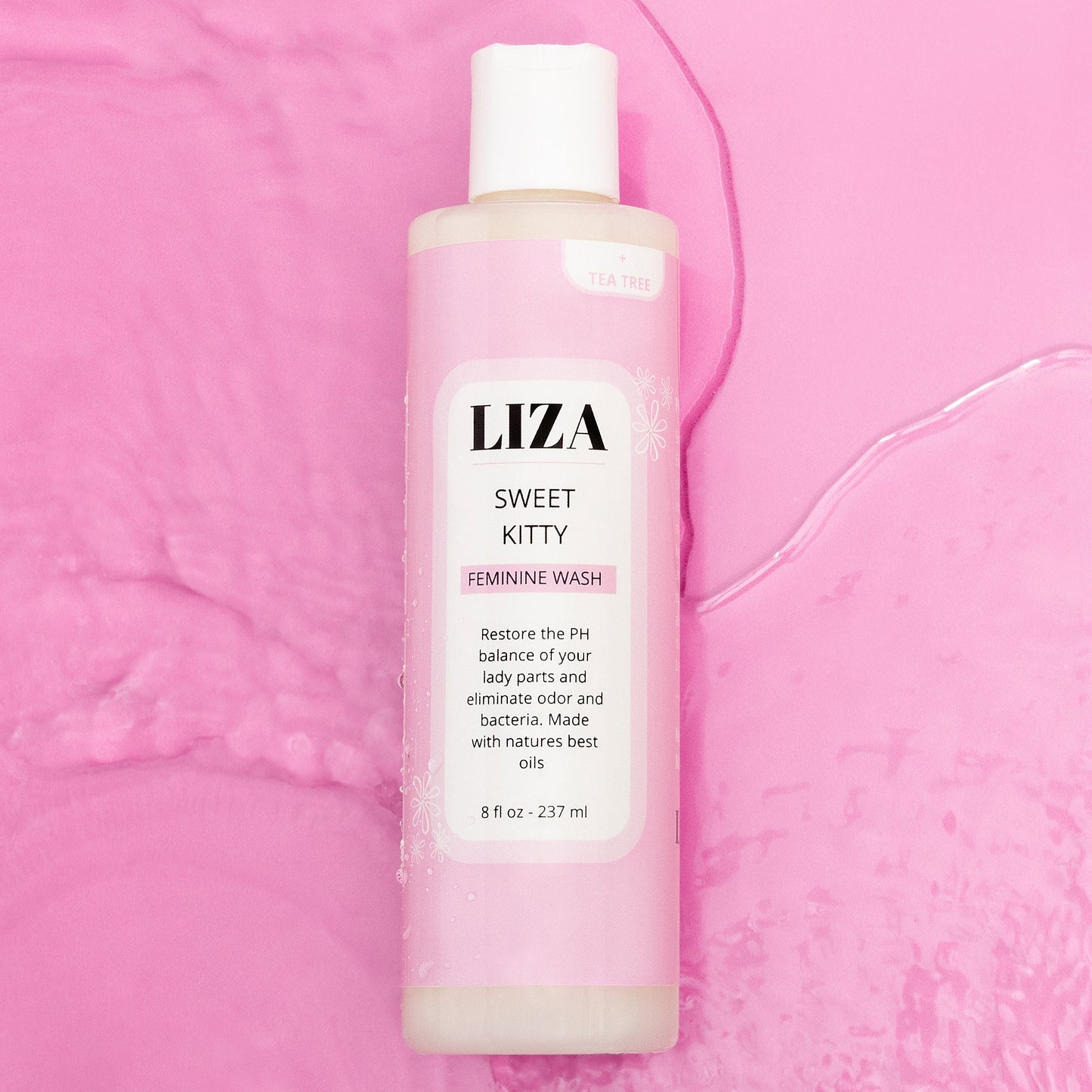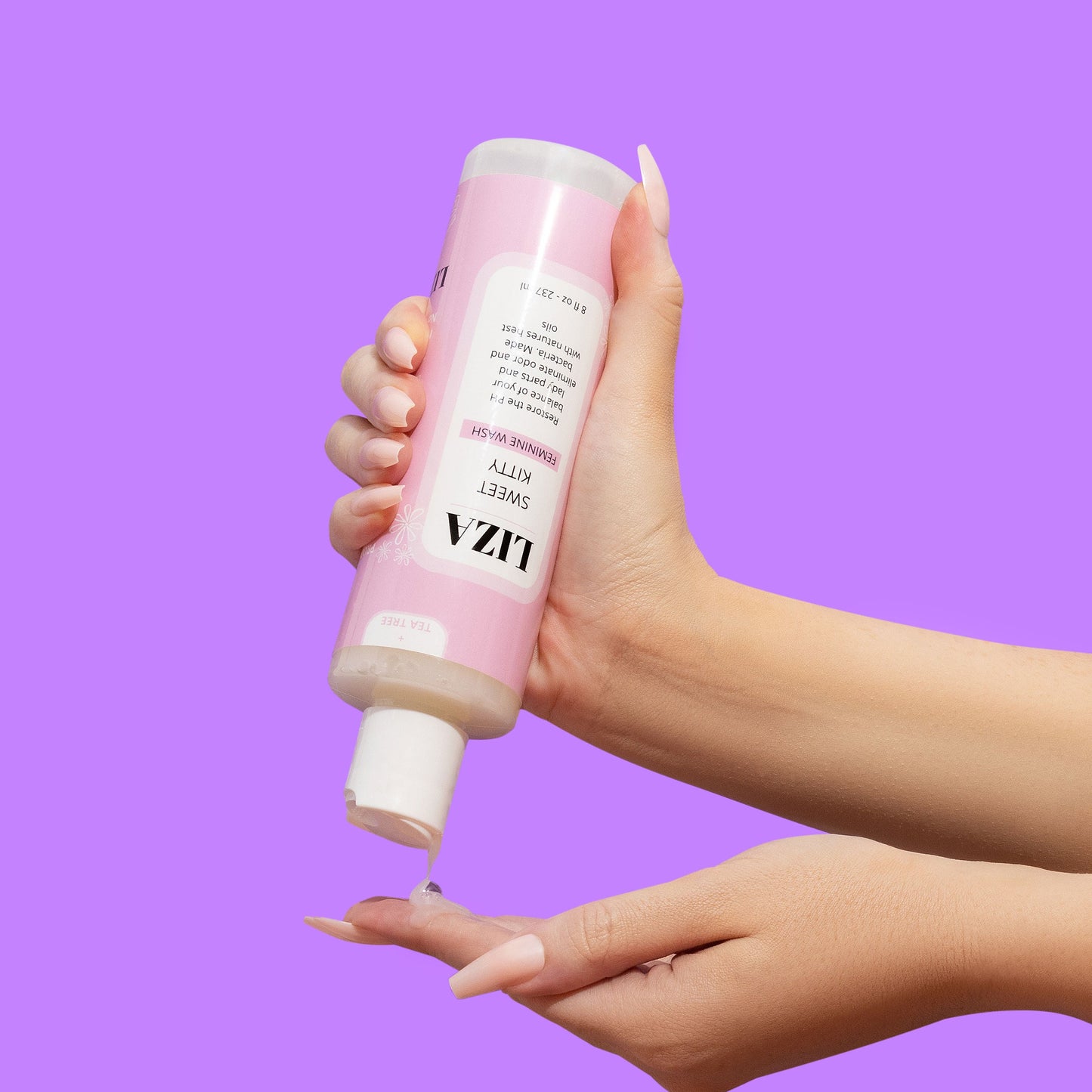 the best product i've tried, never buying anything else - LIZA COSMETICS ON TOP 🔥
i wanted to try a kitty wash to help with smell and my ph. the way my kitty stays fresh and has no bad odors is crazyyy. it's literally something that i thought was impossible to accomplish because people always say kitty is supposed to stink…… i guess they've never tried products from the one and only LIZA 🔥🔥🔥 i'm telling my man to stock up on several other products on the site for me + i'll definitely be a loyal & repeat customer now 👏
I loved this product so so much
Good to know 😍
Shipping

Due to high influx of orders, all orders will be shipped in 1-14 business days.

Domestic shipping takes 3-5 business days. International is 6-14 days

Expedited shipping is provided.
Worry free guarantee

We are sure you'll love everything in your order, let us know otherwise.
Stay In The Hype
Follow our Instagram for content, updates and a whole lot of FUN!
@lizacosmeticsline